Audio : Russian
Subtitles : English , Spanish , French , Portuguese , Greek , Indonesian
OSTROV (2006) - THE ISLAND
Also Known As
(AKA)
Остров Russia
Island Finland (festival title)
L'île France
L'isola Italy
The Island International (English title)
To nisi Greece (festival title)
Wyspa Poland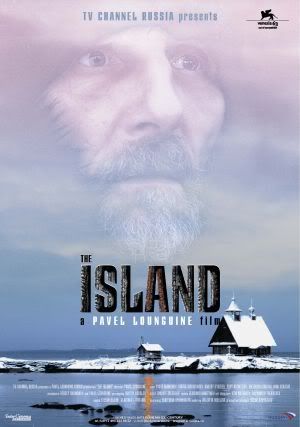 During World War II, the sailor Anatoly and his captain, Tikhon, are captured by the Nazis when they board their barge and tugboat which is carrying a shipment of coal. The Nazi officer leading the raid offers Anatoly the choice to shoot Tikhon and stay alive which Anatoly reluctantly takes, and Tikhon falls overboard. The Nazis blow up the ship but Anatoly is found by monks on the shore the next morning. He survives and becomes a stoker at the monastery but is perpetually overcome with guilt.
Thirty years pass. Anatoly now has the gift of clairvoyance and healing. But the other monks do not really understand him. People come to see Anatoly for cures and guidance, but even now, he remains in a perpetual state of repentance. He often gets in a boat and goes to an uninhabited island where he prays for mercy and forgiveness.
A prominent admiral arrives to see Anatoly with his daughter. The daughter is possessed by demons but Anatoly exorcises them. The admiral turns out to be Tikhon. It is revealed that Anatoly only wounded him during the war. Tikhon forgives Anatoly.
Anatoly can now die peacefully. The monks discover that he has foreknowledge of his death and make him a coffin out of a coal box. He lies down in it, and dies. The coffin is buried on the uninhabited island where he spent his time praying.
Spiritual message
The film is focused on father Anatoly's repentance of his sin (therefore the virtually continuous occurrence of the Jesus Prayer); but the transgressions of the depicted character (a fool for Christ) and their impact on the others are the means by which the actual plot develops. The film's director Pavel Lungin, speaking of the central character's self-awareness, said he doesn't regard him as being clever or spiritual, but blessed "in the sense that he is an exposed nerve, which connects to the pains of this world. His absolute power is a reaction to the pain of those people who come to it;" while "typically, when the miracle happens, the lay people asking for a miracle are always dissatisfied" because "the world does not tolerate domestic miracles."
Screenwiter Dmitry Sobolev further explains: "When people ask for something from God, he is often wrong because God has a better understanding of what a person wants at that moment." Pyotr Mamonov, who plays the lead character, formerly one of the few rock musicians in USSR, converted to Eastern Orthodoxy in the 1990s and lives now in an isolated village. Pavel Lungin said about him that "to a large extent, he played himself." Mamonov received a blessing from his confessor for playing the character.
The simplicity, the humbleness, the remoteness, the miracles converge into creating a timeless snapshot of the Orthodox spirituality, apart from the historical circumstances. Patriarch Alexei II of Russia praised Ostrov for its profound depiction of faith and monastic life, calling it a "vivid example of an effort to take a Christian approach to culture."
Director: Pavel Lungin
Writer: Dmitri Sobolev
Original Music by Vladimir Martynov
Cast
(in credits order)
Pyotr Mamonov ... Father Anatoli
Viktor Sukhorukov ... Father Filaret
Dmitriy Dyuzhev ... Father Iov
Yuri Kuznetsov ... Tikhon
Viktoriya Isakova ... Nastya
Nina Usatova ... Widow
Yana Yesipovich ... Girl
Olga Demidova ... Woman with child
Timofei Tribuntsev ... Young Anatoli
Aleksei Zelensky ... Young Tikhon
Awards
:
* 2006 — best film at the Moscow Premiere festival.
* 2007 — Six awards at the fifth national Golden Eagle Awards - "Best film", "Best male support role" (Viktor Suhorukov), "Best male role" (Petr Mamonov), "Best director" (Pavel Lungin), "Best scenario" (Dmitry Sobolev), "Best operator work" (Andrei Zhegalov).
* 2007 - Nika Awards for Best Picture, Best Director, Best Actor, Best Supporting Actor, etc.
DOWNLOADS
http://rapidshare.com/files/283829826/Ostrov_The_Island_2006.part01.rar
http://rapidshare.com/files/283880939/Ostrov_The_Island_2006.part02.rar
http://rapidshare.com/files/283892801/Ostrov_The_Island_2006.part03.rar
http://rapidshare.com/files/283905629/Ostrov_The_Island_2006.part04.rar
http://rapidshare.com/files/283921493/Ostrov_The_Island_2006.part05.rar
http://rapidshare.com/files/283932770/Ostrov_The_Island_2006.part06.rar
http://rapidshare.com/files/283943547/Ostrov_The_Island_2006.part07.rar
http://rapidshare.com/files/283964869/Ostrov_The_Island_2006.part08.rar
http://rapidshare.com/files/283978640/Ostrov_The_Island_2006.part09.rar
http://rapidshare.com/files/284000187/Ostrov_The_Island_2006.part10.rar
http://rapidshare.com/files/284013317/Ostrov_The_Island_2006.part11.rar
http://rapidshare.com/files/284037476/Ostrov_The_Island_2006.part12.rar
http://rapidshare.com/files/284049984/Ostrov_The_Island_2006.part13.rar
http://rapidshare.com/files/284072467/Ostrov_The_Island_2006.part14.rar
http://rapidshare.com/files/284085145/Ostrov_The_Island_2006.part15.rar
SUBTITLES
:
Indonesian :

http://rapidshare.com/files/284254607/OstrovSubINA.rar
IMDB comments
realx-1 from Romania
The movie tries to bring into attention the essence of Orthodox Christian belief - the reunification of man with God, which is done through repentance and unceased prayer, in humbleness and ascetic struggle. According to the same beliefs, God is the one who works this union in co-operation with the man.
The main character, Fr. Anatoli, was inspired from the lives of some Russian "fools for Christ" - men who tried to hide their sanctity and keep their humbleness behind a mask of apparent insanity - especially from the life of St. Theophile the Fool for Christ.
--------------------------------------------
gaborovitch from United Kingdom
This movie is a cry for God, for repentance, for continuous prayer, for simplicity and humbleness, especially now in a Babylonian "unified" world where "political correctness" is more important than anything spiritual that might turn man to God. We know how to say "I'm sorry" in many sophisticated and intellectual ways but we don't feel it. We are cold. A movie that has the power to save our souls. From the same realm, the last excellent film I saw was Tarkovsky's Andrei Rublev. You don't need 10 lines of text to summarize this movie.... one word that defines perfectly this masterpiece is "prayer"! Continuous prayer!