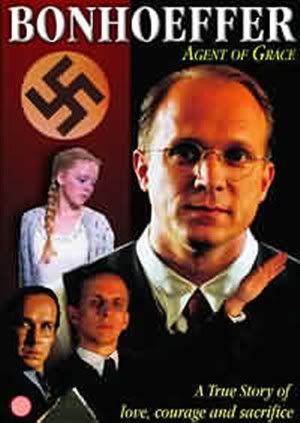 BONHOEFFER: AGENT OF GRACE
(2000)
Audio :
English , Spanish , Brasilian Portuguese , German
Subtitles : English
A true story of love, courage, and sacrifice.
What is a moral person to do in a time of savage immorality? That question tormented Dietrich Bonhoeffer, a German clergyman of great distinction who actively opposed Hitler and the Nazis. His convictions cost him his life. The Nazis hanged him on April 9, 1945, less than a month before the end of the war. Bonhoeffer's last years, his participation in the German resistance and his moral struggle are dramatized in this film. More than just a biographical portrait, Bonhoeffer: Agent of Grace sheds light on the little-known efforts of the German resistance. It brings to a wide audience the heroic rebellion of Bonhoeffer, a highly regarded Lutheran minister who could have kept his peace and saved his life on several occasions but instead paid the ultimate price for his beliefs.
Comments
Todd Brautigam
Just as his life ended, so does the movie end. However, it is a wonderfully made movie and the entire family can watch. Even our two 7 year old daughters watched with interest. It carries a great message of how we must stand against evil, at all costs. If only the war had ended a few weeks earlier. Even so, Lord, thank you for such brave and upright men. Amen.
lincon99 from Canada
I watched, entranced and mesmerized, by the vocal and physical acting. The roles each character played were done with excellence.The lyrics,the words, every gesture, the sunrise, told it all.The movie spoke to me. It enlightened me to a different perception of a person who believes in mankind. Who believes in peace and gentle behavior. I was also held in disbelieve, by the sacrifices and human dignity was portrayed. Power without grace, is demented and without feelings. To want power at the cost of mankind, is so unbelievable. This movie made me so afraid for the people who are no longer in this world. And, it is with sadness that I think of them. I like this movie for the conversations and face expressions to it all. May this movie be blessed.
Teresa Gallo (rsgallo) from Lee's Summit, MO
Bonhoeffer was a very well done movie about the legendary Christian leader and minister Deitrich Bonhoeffer. It told his story, warts and all. It showed the philosophical dilemna that a Man of God struggled through and eventually is sacrificed for. It is a insight into a man who wanted to serve God and mankind, the conflicts, the way he touched others lives, then and now through is great writings. I recommend it.
DOWNLOAD
( All RS links are checked and work well )
http://rapidshare.com/files/300366344/BonhoefferAgentofGrace_BY_SEB.part01.rar
http://rapidshare.com/files/300338020/BonhoefferAgentofGrace_BY_SEB.part02.rar
http://rapidshare.com/files/300214685/BonhoefferAgentofGrace_BY_SEB.part03.rar
http://rapidshare.com/files/300192449/BonhoefferAgentofGrace_BY_SEB.part04.rar
http://rapidshare.com/files/300372415/BonhoefferAgentofGrace_BY_SEB.part05.rar
http://rapidshare.com/files/300144507/BonhoefferAgentofGrace_BY_SEB.part06.rar
http://rapidshare.com/files/300142442/BonhoefferAgentofGrace_BY_SEB.part07.rar
http://rapidshare.com/files/300121772/BonhoefferAgentofGrace_BY_SEB.part08.rar
http://rapidshare.com/files/300121660/BonhoefferAgentofGrace_BY_SEB.part09.rar
http://rapidshare.com/files/300121548/BonhoefferAgentofGrace_BY_SEB.part10.rar
The movie is in the best format for the DVD : ratDVD . With this format you have the same menu use as DVD original.
For player you can use
Media Player Classic
(
http://rapidshare.com/files/300389750/mplayerc.exe.html
)
or
can convert ratDVD in a usual DVD with ratDVD Converter
(
http://rapidshare.com/files/300391023/ratDVDSetup-0.78.1444.exe.html
)