Have you ever wondered what Jesus did as a young boy? The story of Christ's childhood has never before been told on television. Filmed on location in Tunisia, the three-hour Italian TV production A Child Called Jesus mixes Scripture with speculation. It attempts to fill in the "missing years" of Jesus, from ages 3 through 12. The events narrated in the film all took place in the same year and tell the dramatic story of a family forced to leave their home in Bethlehem to escape the persecution of Herod the Great. When King Herod, fearing that the Messiah has indeed been born, orders that all Hebrew male children under the age of three be slain, Joseph moves his family near Egypt. Here, Jesus, sensing His divinity, expresses a desire to return to Nazareth. Travelling homeward with His mother Mary, Jesus flashes forward to events that will unfold in His adult life.
Set against the background of the war between the Romans and the Zealots, the story gains its real inspiration from everyday family life. Be moved by the tender love of Mary for her child and the strong bond between Joseph and the boy Jesus. Though obviously in a spiritual dimension of his own, Jesus is portrayed as a seven-year-old child just like any other: He fights with His friends over a few dates, His mind wanders at school and He asks the usual childish questions.
After making its debut in Italy, Germany and France, A Child Called Jesus was syndicated by Tribune Entertainment to American TV stations during the last week of November in 1989. Directed by Franco Rossi (Quo Vadis?, Odissea) and well-produced with beautiful photography, it earned high ratings in America and Europe, received a favorable concensus from the Vatican and won of an international Emmy Award.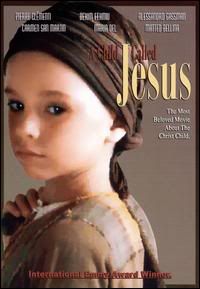 Directed by Franco Rossi
Writing credits : Vittorio Bonicelli, Franco Rossi,Francesco Scardamaglia
Cast (in credits order)
Matteo Bellina ... Jesus
Irene Papas ... Old Maria
María del Carmen San Martín ... Maria (as Carmen San Martin)
Maurizio Donadoni ... Jeder
Hichem Rostom ... Sedeq
Roberto Bisacco ... Marzio
Alessandro Gassman ... Adult Jesus
Bekim Fehmiu ... Joseph
Roberto Posse ... Druso
Frédéric Darie ... Elia
Pierre Clémenti ... Sefir
Susanna Martinková ... Maddalena (as Susana Martinková)
Fethi Haddaoui ... Erode
Martine Gafsi ... Giovanna
Kamel Alaoui ... Rabbino
Hélène Catzaras ... Susanna (as Helene Catsaras)
Abdellatif Hamrouni ... Aaron (as Abdelatif Hamrouni)
Nouri Bouzid ... Rabbi Fares
It
begins with the birth of Jesus to Mary and Joseph, and follows Jesus through his early years while Sefir, an evil servant of King Herod, attempts to murder Jesus and fulfill Herod's edict that all male children during the last three years must die. Joseph flees with his family to Alexandria, where he finds work as a shipyard carpenter, and is nearly killed when Sefir follows them and sets fire to the shipyard. Mary and Jesus are captured by Roman soldiers, and then turned over to Sefir, who leads them away, forcing the mother and child to walk behind his horse through the blistering desert sands. After days of this torment, young Jesus performs a miracle when He cures a leper, and this convinces Sefir to renounce Herod's command and free the mother and child, who are eventually reunited with Joseph.

DOWNLOAD

http://rapidshare.com/files/236309765/AChildCalledJesus.part01.rar
http://rapidshare.com/files/236309619/AChildCalledJesus.part02.rar
http://rapidshare.com/files/236327714/AChildCalledJesus.part03.rar
http://rapidshare.com/files/236331629/AChildCalledJesus.part04.rar
http://rapidshare.com/files/236488605/AChildCalledJesus.part05.rar
http://rapidshare.com/files/236379413/AChildCalledJesus.part06.rar
http://rapidshare.com/files/236428054/AChildCalledJesus.part07.rar
http://rapidshare.com/files/236486091/AChildCalledJesus.part08.rar
http://rapidshare.com/files/236605988/AChildCalledJesus.part09.rar
http://rapidshare.com/files/236607037/AChildCalledJesus.part10.rar
http://rapidshare.com/files/236676827/AChildCalledJesus.part11.rar
http://rapidshare.com/files/236676824/AChildCalledJesus.part12.rar
http://rapidshare.com/files/236710851/AChildCalledJesus.part13.rar
http://rapidshare.com/files/236711503/AChildCalledJesus.part14.rar